We are excited to be offering radio frequency treatment body contouring as well as stretch mark and cellulite reduction!
---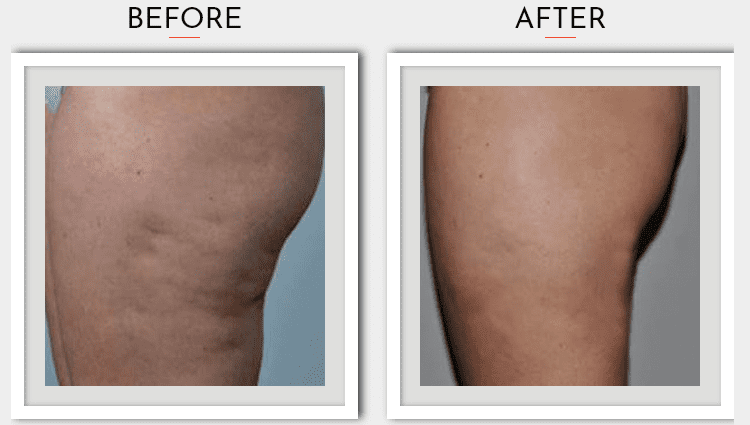 Cellulite Reduction
Smooth your skin's surface with SharpLight's cellulite reduction treatments. These treatments, which produce tighter, smoother, stronger skin, are safe, non-invasive and require no downtime from the patient. Our cellulite reduction treatments are suitable for patients of all skin types, body types and grades of cellulite, and deliver excellent long-lasting results.
---
Body Contouring Demo
Body Contouring doesn't have to hurt! The RF treatment feels more like a massage than a clinical treatment. But don't let that fool you – this is a highly effective way to re-shape your body, with visible results.
---
Book Your Free Consultation
---
Price List
Torso
Body Contouring for the torso
Abdomen – 175
Single session
Abdomen package – 1260
Eight prepaid sessions
Obliques ("Love Handles") – 100
Single session
Obliques package – 720
Eight prepaid sessions
---
Limbs & Buttocks
Body Contouring for the arms, legs, and buttocks
Buttocks – 250
Single session
Buttocks package – 1800
Eight prepaid sessions
Upper legs – 150
Single session
Upper legs package – 1800
Eight prepaid sessions
Upper legs – 250
Single session
Upper legs package – 1800
Eight prepaid sessions
Lower legs – 150
Single session
Lower legs package – 1080
Eight prepaid sessions
Full legs – 375
Single session
Full legs package – 2700
Eight prepaid sessions
Upper arms – 150
Single session
Upper arms package – 1080
Eight prepaid sessions
---
Infrared Skin Tightening
Infrared Tightening for the face and body
Face & neck – 300
Single session
Face & neck package – 810
Three prepaid sessions
Neck/jawline – 250
Single session
Neck/jawline package – 675
Three prepaid sessions
Décolleté (including neck) – 350
Single session
Décolleté package – 945
Three prepaid sessions
Upper arm – 350
Single session
Upper arm package – 945
Three prepaid sessions
Abdomen – 400
Single session
Abdomen package – 1080
Three prepaid sessions
Buttocks – 425
Single session
Buttocks package – 1148
Three prepaid sessions